Enjoy a fantastic time at one of these festivities.
"Soul Glow: A Black Experience"
Darius Hill will feature his artwork in "Soul Glow: A Black Experience" exhibition through Saturday, Feb. 18 at the Wiregrass Museum of Art & Conference Center. Hill is the chairman of the Visual Arts Department at Birmingham's Alabama School of Fine Arts. His abstract artwork reflects what it means to be black in today's world. Admission to the exhibit is free.
To learn more, visit http://www.wiregrassmuseum.org/darius-hill/ or call 334-794-3871.
The Wiregrass Museum of Art is located at 126 Museum Ave. in Dothan.
The hours are 10 a.m. to 5 p.m. Wednesday through Friday and 10 a.m. to 3 p.m. Saturday.
Get to know your breweries
Taste more than 150 craft beers at the Birmingham Winter Beer Fest Saturday, Feb. 4 from 3 p.m. to 7 p.m. at the Birmingham-Jefferson Convention Complex. This is Birmingham's first beer festival of the year. Sample a variety of breweries from Burnt City to Wyndridge Farm to Avondale Brewing Company. Attendees will enjoy karaoke, photo booths and a silent disco.
For more information about admission or designated driver tickets, call 800-745-3000 or visit the website.
Attend the Wheelchair Rugby Tournament
The Demolition Derby Wheelchair Rugby Tournament is set for Feb. 3-5 at Lakeshore Foundation. In its 20th year, the demolition will host nine teams from across the country. The three-day tournament is free. The hours are from 9 a.m. to 7 p.m. Friday, Saturday and Sunday.
Get the full details here.
"Dancing with the Stars" comes to Birmingham
As seen on the ABC network, enjoy a live Dancing with the Stars performance Friday, Feb. 3 at 8 p.m. at the Birmingham-Jefferson Convention Complex. Contemporary, ballroom, modern dance and more are on tap for the weekend performances.
Tickets range from $50 to $75.
Children ages 2 and up must have a ticket.
Cast members are subject to change.
Click for tickets.
A children's musical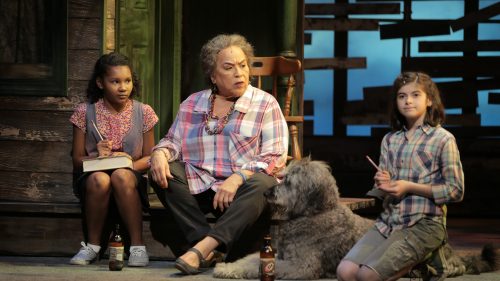 The "Because of Winn-Dixie" musical is underway at the Alabama Shakespeare Festival (ASF) through Feb. 12. The children's musical is based on the novel by Kate DiCamillo, with music by Tony-winning songwriter Duncan Sheik and Tony-nominated lyricist Nell Benjamin. Children ages 9 and up are the recommended audience.
The ASF is located at 1 Festival Drive in Montgomery.
Call 334-271-5353 or visit the website.
For times and ticket information, click here.
Mardi Gras events are in the air
Alabama Contemporary Art Center will host the Venardos Circus' "Cirque du Mardi Gras!" Feb. 1-14. Stunts, acrobatics and comedy are among the many events planned. Attendees interested in the pre-show activities may enjoy games, snacks and cocktails.
For times and ticket information, click here.
The show is at the Alabama Contemporary Art Center, 301 Conti St. in Mobile.