There was a time when Vicki Covington was flying high in the literary world.
Short stories published in The New Yorker had led to five highly acclaimed books: 1988's "Gathering Home," 1990's "Bird of Paradise," 1992's "Night Ride Home," 1996's "The Last Hotel For Women" and 1999's "Cleaving: The Story of a Marriage."
"Cleaving," a no-holds-barred look at her marriage, co-written with husband Dennis Covington, took its toll on the couple, with some readers taking particular offense to its tales of infidelity.
"I felt burned after that book came out," Covington says. "We had to leave our church. There was just a lot of pain about some things that were said about the honesty of the book."
And after that, save for "Women in a Man's World," a collection of essays published in 2002, Covington quit. For 15 years, she didn't write a word.
Until now.
"It felt like the muse just left me, and it returned just as mysteriously after all those years," says Covington.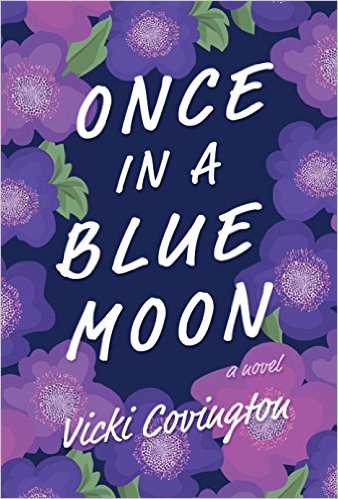 The result is "Once in a Blue Moon," a novel set on Cullom Street in Birmingham's Glen Iris neighborhood during Barack Obama's first presidential campaign. Not so coincidentally, Covington lived on Cullom Street in Birmingham's Glen Iris neighborhood during Barack Obama's first presidential campaign.
Covington moved there in 2005 after some tumultuous years. She and Covington separated (they're back together now), her two daughters grew up and moved away, and her parents and her brother, Randy Marsh, a beloved member of Birmingham's theater community, all died.
"I suddenly found myself by myself," she says. "No mother, no daddy, no brother, no husband, no kids. Those were hard years."
Covington became addicted to pain killers, but she cleaned up her act and made the move to Cullom Street.
"From 2005 to 2009, I lived alone on Southside," she says. "It was a wonderful time in retrospect, and I thought maybe I could write about it someday when I was away from it."
That "someday" came in 2015. Covington had reconciled with her husband, who had moved to Texas to take a job at Texas Tech University, and since 2009 she has been in Lubbock near her two daughters and three grandchildren.
"A couple of years ago, I just started doing it," Covington says of writing. "And those words came down the arms of a grateful woman."
"Once in a Blue Moon" chronicles the lives of a tight-knit group of neighbors, each facing their own demons but grasping at hope as Obama seeks the presidency. Covington will sign copies of the new novel on April 20 at 5 p.m. at Homewood's Alabama Booksmith.
When Covington, 64, decided to reenter the publishing fray, it was like starting over as an author.
"It was horrible," she says. "I got in touch with my first editor … and she called some agents, but agents weren't taking people. I sent it blind to a few publishing houses."
Finally, a friend from high school suggested she send it to John F. Blair, a North Carolina-based independent publisher. They bought the book.
"I was so grateful," Covington says. "They only publish one novel a year, and the rest is nonfiction. They've done a good job with it."
"Once in a Blue Moon" is dedicated to Haden Marsh, brother Randy's widow, who still lives in Birmingham.
"She's my family now," Covington says. "She's the big sister I never had. She has always had my back. She watched me go through those bad years of addiction and then depression, but she's always been with me. We were always close when Randy was alive, but after he died, she took his place in my heart."
These days, life is good for the Covingtons. Dennis Covington, who is retiring from Texas Tech this year, recently released the book "Revelation," and they spend a lot of time with their three grandchildren.
Oh, and Vicki Covington is writing again.