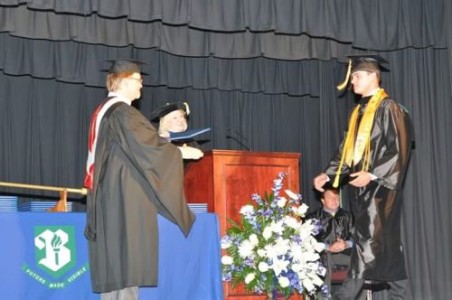 On May 12, Seth King claimed his diploma for an associate's degree from Bevill State Community College (BSCC). He had a head start getting here, thanks to his participation in the career technical dual enrollment courses that he began taking as a sophomore at Walker High School.
The Jasper student spent one class period four days a week through senior year earning college credits from BSCC's Sumiton campus. "I mainly took their drafting classes," King said.
"I've always been into designing. I loved math," he added. "With these drafting classes, it's helped me find something that I really love to do."
Since then, the 2014 high school graduate has been able to fast-track his career goals.
"I graduated last May with 36 credits already into my drafting certification," King said. Having finished his associate's degree during his first year out of high school, he's got even bigger plans. "Now I'll be transferring to UAH in August to continue my education."
King said he will be pursuing a degree in aerospace engineering at the University of Alabama in Huntsville. He hopes to get a co-op opportunity and to work in the industry in the area after graduation.
Earning High School and College Credits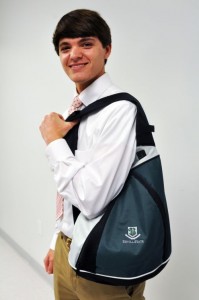 High school students that want to get a jump on good-paying jobs in the technical trades are able to do so through dual-enrollment programs connected to their local community colleges. The students can learn technical skills through scholarships funded by the Alabama Legislature and earn college-level credit before they receive their high school diplomas.
"It's preparing students to enter the workforce in high-wage, high-demand careers after high school," said Roger Fortner, Director of Work Force Development for Alabama Department of Postsecondary Education.
Dual enrollment programs have been around for a while – allowing eligible high school students to earn college course hours and high school hours at the same time. Though these programs can be geared to getting a jumpstart on academic degrees, more recently, Alabama has increased its focus on career technical programs to beef up available workers for the skilled trades.
"Career technical education is a partnership with business and industry," Fortner said. Employers, in fact, are involved in the design of career technical curriculum and evaluate course listings for relevant skills training.
"When it's time to modify the course curriculum," Fortner said, "we bring industry folks in to help. They provide input."
Career technical education covers more than 150 fields, ranging from advanced manufacturing, aviation maintenance and welding to nursing and allied health. When college-level training is delivered to high school students, the specific course offerings are developed through partnerships between school systems and community colleges.
For example, during the 2014-15 school year, Elmore County Schools (ECS) partnered with Central Alabama Community College to offer a dual enrollment program in robotics and manufacturing at Wetumpka High School. This first year was a trial run, said Jimmy Hull, ECS's Director of Career Technical Education.
"It's gone really well, so we're expanding," Hull said.
The robotics and manufacturing program is moving to the system's Career Technical Center for the next academic year, where other dual-enrollment programs also will be offered, including pre-engineering and design, welding, and computer technology.
"In the programs we're offering, there's a big need in industries for workers," Hull said. "Kids can get ready for these jobs. There are jobs available."
Through these programs, Hull said students can earn credentials in certain skills and trades. A certificate path provides some level of mastery.
"Once they get that, they can always go into the workforce," Hull said, or go on to obtain an associate or bachelor's degree.
Legislative Support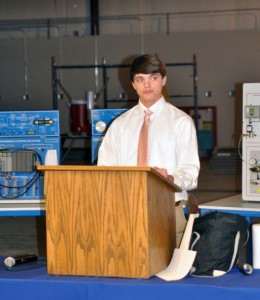 For the current fiscal year, the Alabama Department of Postsecondary Education received a $5 million appropriation specifically for career technical dual-enrollment education, and nearly all of that amount was designated for scholarships awarded through community colleges.
This year also saw the launch of the Alabama Future Workforce Initiative (AFWI). Created by the Legislature, the AFWI allows Alabamians to claim a tax credit for donating to the Alabama Department of Postsecondary Education in support of the Career-Technical Dual Enrollment Program. Donors may be able to receive a tax credit for up to 50 percent of the donation.
Tuscaloosa residents Terry Waters and his wife Carole were among the first to contribute under the AFWI. Waters, a retired Alabama Power Company executive, said he feels passionately about the AFWI and knows it well. He is a member of the Alabama Workforce Council and also served in the Alabama Department of Postsecondary Education's Workforce and Economic Development office when the legislation was being considered.
"I know the money will go for a good cause," Waters said.
"I hope that businesses, industries, and Alabama taxpayers will step forward in a big way to support this program," Waters said.