Auburn University's student Recreation & Wellness Center was recently ranked No. 3 on a list of the 35 most luxurious student recreation centers in America.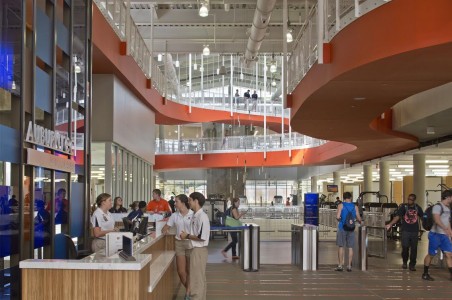 Featuring a bike repair shop and two 50-foot climbing walls, Auburn's student recreation center made College Rank's list for a variety of reasons, according to the college evaluation website.
Here's what College Rank had to say about the 237,981-square-foot center:
"The goal of the Campus Recreation Department at Auburn University is to enrich student life by promoting physical activity and responsible, healthy choices. To ensure this, Auburn offers programs like the "Healthy Weight Challenge," which challenges students to stay active and maintain nutritional balance. Cooking classes are also offered to ensure that students complete the challenge. Auburn also has fun options for students with events like the Polar Bear Plunge; where students take a swim in the outdoor leisure pool during the colder months of the year. In addition to these events, Auburn also has several programs and options for students looking to live a healthy lifestyle. Auburn has professional trainers on staff, has fitness assessments, group fitness courses, and a "Pilates reformer", which adds resistance training to the traditionally mat-based Pilates regimen. The university also has many outdoor options for students and even has a bike rental kiosk for those who simply want to bike around campus."
Auburn's student center was opened in 2013 after construction was completed by Birmingham's Robins & Morton and HOK design firm.
The facility features a 1/3-mile track, as well as basketball courts, an outdoor leisure pool, cardio/fitness zones and weight training areas.
According to the firm HOK's website, the facility was constructed for around $225 per square foot and has garnered multiple awards, including National Intramural-Recreational Sports Association's Outstanding Sports Facility and Athletic Business' Facility of Merit Award.
The project is also LEED certified.