Throughout October, archives around the country are celebrating American Archives Month. Archivists are excited to have the opportunity to share information about what an archives is and how to use the information that can be found there.
The national archives organization, called the Society of American Archivists, defines an archives as "an organization dedicated to preserving the documentary heritage of a particular group. The permanently valuable records preserved, including letters, manuscripts, reports, and photographs are documentary evidence of past events that can be used to interpret and understand history."
Here's a look inside the Alabama Power Corporate Archives.

Alabama Power Corporate Archives spans nearly three decades from Alabama NewsCenter on Vimeo.
Similarly, most people have these same items – documents, photographs and papers – at home that comprise a family archives. Information in a family archives can often be used in conjunction with local, state and federal archives to gather more information for a number of purposes including: family genealogy, school projects or research for books, articles and movies.
According to Lee Ann Potter, director of Educational Outreach at the National Archives and Records Administration (NARA) in Washington, D.C., "a family's archives might contain the final certificate for a great-great-grandfather's homestead, while the National Archives holds the original application for that homestead. Or, a family's archives may include a photograph from the day when a grandparent became a U.S. citizen, while the National Archives contains the government application for naturalization. In addition, the National Archives has all census records dating back to the very first U.S. census."
In the video, "Finding your Family at the National Archives," archivist Reginald Washington provides an example of family research at the National Archives.

Archives in Alabama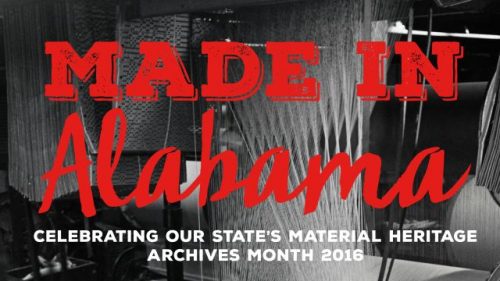 While records available through the National Archives can be immensely valuable, there are many resources in Alabama for more localized research.
The Society of Alabama Archivists (SALA) was established to provide a means for individuals and institutions interested in archives and manuscripts in the state to work together to promote the appreciation and preservation of the state's archival and manuscript resources.
The SALA website  has a link to archival repositories in Alabama, as well as to regional and national archival organizations and societies. The Alabama-specific directory allows researchers to query for an institution by county, city or the name or type (archives, museum, library, historic site, city clerk, etc.).
Interested in starting your research online?
For those just starting out, online research is usually the first step. Several years ago, through a grant from the Institute of Museum and Library Services, the Alabama Department of Archives and History developed an online collection, which has evolved into a repository called AlabamaMosaic, http://alabamamosaic.org/.
AlabamaMosaic contains digitized photographs, letters, manuscripts, postcards, books, maps and slides, as well as digital files of audio recordings. These materials focus on Alabama's history, culture, places and people.
The purpose of AlabamaMosaic is to make unique historical treasures from Alabama's archives, libraries, museums and other repositories electronically accessible to Alabama residents and to students, researchers and the general public in other states and countries. There are currently 40 Alabama institutions participating.
This Archives Month, and the rest of the year, archivists from throughout the state and country welcome the opportunity to share their expertise and passion for history with you, it just starts with a question.