Chris Cumbie Art in Mobile
The Maker: Chris Cumbie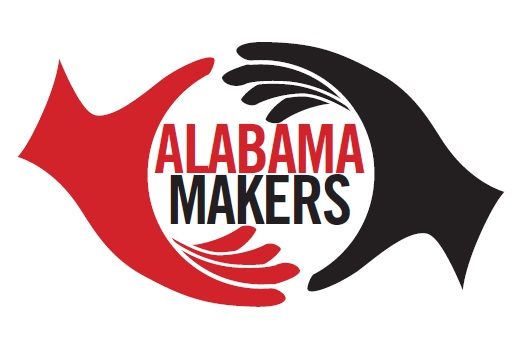 Walking into Chris Cumbie's studio in downtown Mobile is like stepping into a fantasy world created for a blockbuster movie.
The title?
CREEPS.
Cumbie makes little robots from wood, metal washers, buttons and what others may consider junk. He then mounts the statues in a wooden box and burns a saying next to where they will live for eternity. There is something a little "creepy" about the popular figures he sells by the hundreds in art shows all over the country.
"These guys are called CREEPS, which stands for curiously random, emotionally elusive, peculiar specimens," Cumbie said. "They're carved out of wood, and then some of them will get accessories. … The bodies are made out of spindles from old furniture and some are driftwood. The box is hand-painted and hand-waxed, and each box says something different. My fiancée, Harriet, decides what the robots might be saying."
CREEPS creator Chris Cumbie is an Alabama Maker with a hint of Dr. Frankenstein from Alabama NewsCenter on Vimeo.
Cumbie specializes in creating art from what others toss out. Rusted metal and tin, broken wood, wire and copper, animal bones and even piano keys have made it into his art. He uses mixed media including painting, wood burning, welding, carving and sculpting. He has a soft spot in his heart for preserving history.
"I love it when people throw away hardwood floor or an old and broken piano. So much art is waiting to happen from pieces like that. And the thing is recycled and living, instead of in a dump," Cumbie said.
Cumbie's popular CREEPS were born from what he calls a "life-changing accident." He needed a distraction while working on a show in Atlanta and created his first CREEP as a fun and weirdly emotional thing. Later at the show, it was his first piece purchased. He made 30 more and sold out fast. Since then, collectors and friends alike are always asking for the next one.
"I never stop thinking of the different characters that I can come up with for the CREEPS," he said. "I'll start with something plain and normal and I'll end up with weird stuff."
The sayings burned into the CREEPS wooden boxes are almost as interesting as the characters themselves. They range from the sweet to the … creepy:
"Don't be like the rest of them darling."
"Stars can't shine without darkness."
"I want to cut open your rib cage and cuddle your heart."
"Loving you is the easiest thing I've ever done."
"I'm not weird, I'm a limited edition."
"You are the sweet in my dreams."
"You made me feel special, when I thought I was nothing."
---
The Product: CREEPS and other art items.
Chris Cumbie Art
251-709-2760
Take home: CREEPS, $120 each.
[email protected] or www.Facebook.com/ChrisCumbieArt