Game-day parties, late-night pizza get-togethers and socializing on the quad are an important part of the college experience.
Gaining extra pounds – the dreaded "freshman 15" – seems almost like a rite of passage. For students who are away from home for the first time and left to their own dietary devices, weight gain can seem inevitable. Suddenly thrown into the adult world, new freedoms may translate into a disorganized schedule that leads to less-than-healthy habits.
Anna Threadcraft, Employee Wellness director at the University of Alabama at Birmingham, says that living a healthy lifestyle on campus doesn't have to be complicated. Taking care of your body and maintaining a healthy weight goes back to two principles: All food can fit in moderation, and move.
"The 'freshman 15' is avoidable – it just takes a little bit of mindfulness and planning to make it work," said Threadcraft, who has more than 10 years of experience in wellness promotion. "The first thing I encourage incoming freshmen to consider is to establish a routine. That helps set healthy habits for meal time, as well as sleeping patterns, which can impact when and why we eat."
Plan to start each morning with breakfast and eat every three to four hours afterward to maintain steady energy levels. There's always room for a snack to ensure you don't overeat later. Watch for late-night snacking out of boredom, rather than hunger. If students know they'll be up late to study, Threadcraft advises having a light supper and keeping a healthy snack option available.
"Lots of campus social events include food," said Threadcraft, a registered dietitian and nutritionist. "The excitement of free food or unlimited portions that go along with student meal plans may tempt students to overeat. Start with smaller portions, with the mindset you can go back for more. Most food halls have a rotating schedule, which means students can go easy on the items they're tempted to load up on. They'll most likely be on the menu again."
New lifestyle can create weight gain
Physical activity is often part of high-school schedules through sports and extracurricular activities. Without intentional planning, college students often see a significant decrease in exercise because of changes in routine, contributing to weight gain.
"Finding fun ways to be regularly active makes it easier to achieve the recommended 150 minutes of exercise per week," Threadcraft said. "Make physical activity a  part of your week by attending campus recreation fitness classes, joining an intramural team, or walking with a friend instead of grabbing coffee together. Adding a little accountability and some fun makes it easier to stick with a plan."
For a healthy college lifestyle, Threadcraft recommends these principles:
Limit, don't eliminate: All foods fit in moderation (unless there is an allergy).
Beware of portion distortion: Serve your plate in amounts that allow you to feel satisfied – not stuffed – at the end of the meal.
Survey before you serve: For buffet-style meals, scan the options and select your favorites. It can be tempting to get a hefty serving of everything. Instead, select items in a moderate amount; you can return later if you're still hungry.
Hydrate: Thirst is often confused with hunger. It's easy to forget to hydrate throughout the day when you're busy with school. Carry a water bottle to class, and aim for most fluids to come from water, with a serving or two of low-fat milk or dairy alternative. Drink sugary beverages or sweetened juices only on special occasions.
"Food was created to be enjoyed, but with that privilege, we have to steward the responsibility," Threadcraft said. "When we view food as fuel, we begin to see how eating well and staying active can support healthy skin, high energy levels, better sleep and overall mood.
"We need some foods more than others," she said. "It's OK to have dessert. If it's cookie day at the sorority house, by all means enjoy one; just be intentional to grab one, not a handful. If we try to cut out something altogether, we often end up craving it more and overeating, so enjoy the foods you really want, but consider the overall portion."
Stick with the 80/20 rule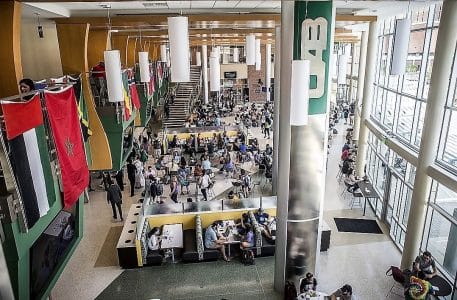 Eating the right foods is easier than you think. MyPlate by the United States Department of Agriculture is a helpful guide for balancing your plate.
Aim to fill half of the plate with fruits and vegetables, a quarter with grains and a quarter with a protein option. Add two servings of dairy each day and you'll get a balance of nutrients.
"Use the 80/20 rule: 80 percent of the week, make wise choices and follow the MyPlate guidelines," Threadcraft advised. "The remaining 20 percent of the  time, give yourself permission to splurge a little."
Balance is key when it comes to healthy eating. She said it's fine to save room for some treats on game day, parties and other special occasions.
"Fluids count," she said. "Sugary beverages are an unintentional way to sneak in extra calories. Following the 80/20 rule can help you be healthier now and in the future."
For college students who aren't on a meal plan, planning a weekly grocery visit can support healthier choices and be a wise financial move. Having healthy foods to take to class or to keep in the refrigerator keeps students from eating out as often, and ensures that balanced options are available.
Enjoy healthy nosh in dorm
Today's dorms often allow students to keep a small refrigerator, which makes it easier to have healthy snacks. Stock up on items such as carrot sticks, cheese sticks with single-size dressing, sliced deli meat such as lean turkey, and yogurt cups.
Chocolate milk – in the 1 percent or fat-free variety – is a great choice, and is also a good source of protein. Students should check with the dorm's resident assistant or management about rules and policies for refrigerators.
A healthy perspective
For students interested in losing weight, throw out the diet, Threadcraft advised: "Healthy is about a lifestyle, not a quick fix. Your value and self-worth are not defined by the numbers on the scale."
Enjoy all foods in moderation. Threadcraft said that if one needs to lose weight, it's important to remember the pounds weren't gained overnight.
"It will take a little time to lose it the right way," she said. "Student health centers often have fabulous resources available for the wellness journey and are available to support students along the way. Restrictive diets mostly leave you dehydrated, hungry and in a bad mood. We put a lot of emotion into what we're eating, which can add a lot of stress into our lives. Sometimes we need to "break up" with food, and start "dating" it again with healthy boundaries."