What's up with a walk-through cemetery with costumed characters this time of year that has absolutely nothing to do with Halloween?
Go to Gadsden this Sunday to find out, where a generous dose of history, education and civic pride is brewed with the fascination of cemeteries.
"A Walk Through Time" takes visitors through the city's historic Forrest Cemetery (in the daylight, mind you) to meet and greet people playing the roles of some 70 Gadsden leaders and pioneers – many who are their relatives –  at their gravesites.
The ninth edition – free to the public –  is Sunday, Oct. 22, from 2 p.m. to 5 p.m. Parking, also free, is at the former Gadsden High School on 12th Street between Walnut and Chestnut streets, where trolley transportation to the cemetery is provided.
For those unable to make it around the cemetery on foot, a limited number of golf carts will take visitors to several stops. And 30 characters will give their performances in the cemetery chapel.
Meet three of the historic Gadsden figures resurrected in 'A Walk Through Time' from Alabama NewsCenter on Vimeo.
"Spend an afternoon listening to stories of humor, history and heroes while strolling through an historic cemetery," said Pudden McArthur, president of A Walk Through Time Inc. "This event is appropriate for all members of your family."
Ironically, there's no Halloween connection. Organizers chose this time of year because it's the driest month in Alabama, providing the best weather for an outdoor experience.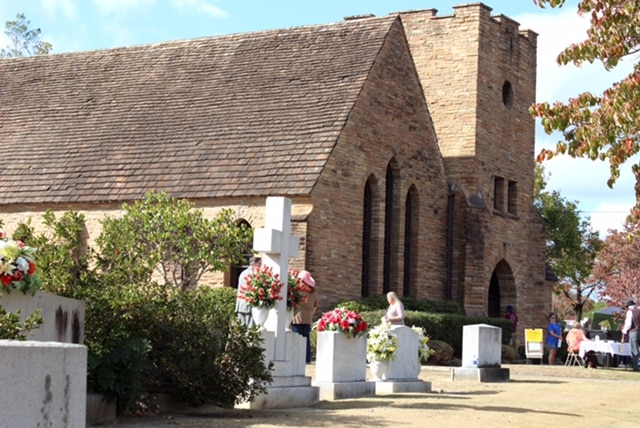 While 70 people in character may seem a lot to take in, visitors receive maps and can pick and choose who they want to see and hear. Maybe it's Herbert Meighan, Gadsden mayor from 1938 to 1949, for whom the major thoroughfare Meighan Boulevard and the bridge across the Coosa River are named. Or Pulitzer Prize-winning editor Hazel Brannon Smith.
A key connection to Alabama Power will be featured for the first time: Alabama Power Area Manager Steve Hildebrant will portray Capt. William Patrick Lay, who founded the company in December 1906.
"What I have learned about Captain Lay has been the best part about participating," Hildebrant said. "We know him as the founder of Alabama Power. What we don't realize is he founded or was a part of a number of other businesses and civic endeavors.
"He was a visionary, an entrepreneur, a businessman and probably a genius. His vision changed Alabama."
More information is at www.forrestcemetery.com or on the cemetery's Facebook page.