Brian Peters: Alabama stays cold this week, then gets colder from Alabama NewsCenter on Vimeo.
TODAY: The weather is changing rapidly this morning. Generally, at this writing, the biggest area for an icing threat with light winter precipitation falling was north of a line from about Jasper in Walker County to Gadsden in Etowah County – see the graphic below.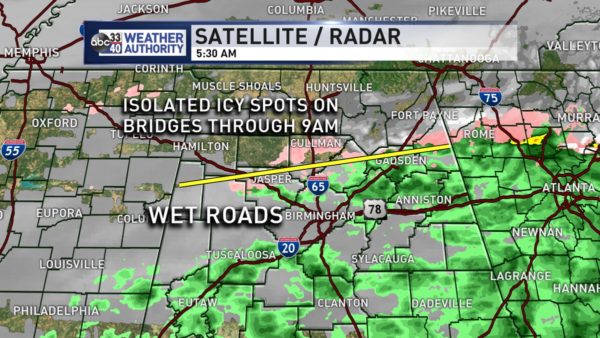 Pretty much in line with the forecast, overrunning began across southern Alabama yesterday evening and spread rapidly east. But by 10 p.m. or so, precipitation had also spread northward. I recorded only 4 hundredths of an inch of rain before midnight. The greatest threat for winter weather, along with the biggest potential for any impact, was across the extreme northern sections of central Alabama, north of about Warrior. This morning around sunrise, temperatures were still sticking right around the freezing mark across the Tennessee River Valley with above-freezing temperatures south of a line from Jasper to Gadsden. Precipitation will continue to move eastward fairly rapidly for north and central Alabama while rain remains a possibility across south Alabama.
REST OF THE WEEK: Our upper-air pattern remains locked in a cold one with the broad trough situated over the eastern two-thirds of the United States. The trough axis for the broad trough was from Lake Michigan to the Lower Mississippi River Valley. The broad trough will remain locked in place, with only a small shift of the major axis to the east, through Saturday. This will keep us cold but dry. Morning lows will be at or just below freezing, with afternoon highs in the 40s but possibly edging into the lower 50s for each day into Saturday.
NEW YEAR'S WEEKEND: The big show is coming for New Year's Eve and New Year's Day. Unfortunately, the European Weather Center experienced a power outage earlier today, so we have no ECMWF forecasts covering this period. And the Global Forecast System seems to remain bullish on the idea of winter weather across the northern half of Alabama.
On Sunday, a strong upper trough is forecast to develop from the Great Lakes westward to Wyoming and swing rapidly southeast through the broad trough. This will bring a monstrous surface high forecast to be 1,056 millibars into eastern Montana. To the south, the GFS is picking up on overrunning precipitation across the Lower Mississippi River Valley. With cold air in place, the GFS is painting a large swath of sleet, freezing rain and snow from northeast Texas to northwest Alabama. By midnight on Sunday, the GFS has a surface low in the Gulf just south of Mobile and New Orleans. This pattern, if it verifies, certainly supports the idea of a wintry mess to end 2017 and start 2018.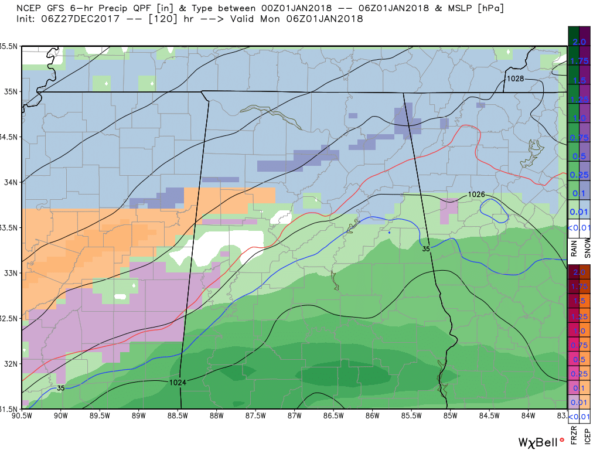 NEXT WEEK: By New Year's Day afternoon, the precipitation is coming to an end for Alabama, but temperatures are projected to be below 30 degrees from Birmingham northward. GFS MOS guidance prints out lows in the teens for Birmingham for Jan. 1-3, while highs struggle to get much higher than the upper 30s. In other words, it's going to be downright cold to start the new year. The overall issue with the whole winter precipitation event is that the GFS has been more bullish on being wet while the ECMWF has been drier. And the ensembles out of the GFS continued to show a large variation, so we're going to have to rely on future runs to hone the forecast for this event.
LONG TERM: Looking into voodoo country, another cold shot is forecast to come at us on Jan. 4, with another strong trough coming through the broad trough across the East. But hold on; there is some hope for slightly warmer conditions. The flow is forecast to go nearly zonal around Jan. 6 to give us a couple of warmer days. But the warmer weather does not last long, with another strong trough digging the broad trough back into the eastern U.S. on Jan. 8. The train continues into Jan. 9-11, with a continuous stream of short waves coming through the flow, giving us little relief from the overall cold pattern.
FOOTBALL WEATHER: Both Auburn and Alabama will be playing inside enclosed stadiums, so there is no worry about the weather during the games. But getting there and home may involve some issues.
For those headed to Atlanta for the Peach Bowl, where Auburn faces the UCF Knights with an 11:45 a.m. Central kickoff, New Year's Eve will be cold, with a high of only 38 and potential for snow and sleet. Game day will also be cold, with a slight chance of rain and snow and a high of only 38.
For the Sugar Bowl in New Orleans, where Alabama and Clemson face off at 7:45 p.m., there will be a chance for rain for New Year's Eve with a high of 51. New Year's Day should also see some chance for rain with a high around 44.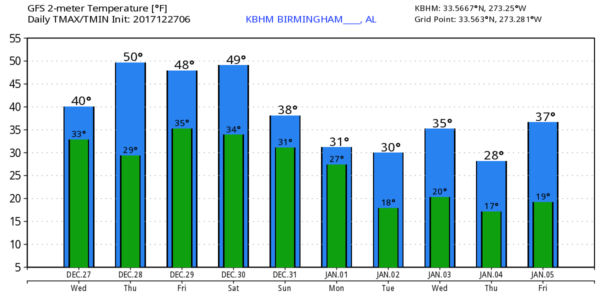 BEACH FORECAST: Click here to see the AlabamaWx Beach Forecast Center page.
WEATHER BRAINS: You can listen to our weekly 90-minute netcast anytime on the web or on iTunes. This is the show all about weather featuring many familiar voices, including meteorologists at ABC 33/40.
For more weather news and information from Brian Peters, James Spann and other members of the James Spann team, visit AlabamaWx.