As we watch 2017 give way to 2018, it's a good time to look back on some of the best things that happened in Alabama this year. Alabama NewsCenter has tallied the results in each grouping of stories to see which ones you responded to the most, and we're sharing your five favorites along with a story (or stories) we wanted to make sure you didn't miss.
This was a year of comebacks. Both Birmingham Bulls hockey and UAB football returned to the Magic City and Tuscaloosa boxer Deontay Wilder came back from hand surgery to defend his title twice. It was also a year that brought us a heartwarming proposal at the Magic City Classic and the story of heartbreak that the head football coach of Miles College spent this year trying to overcome.
Here are the five sports stories that scored the most with our readers in 2017:
Alabama State delivered a 21-6 upset over Alabama A&M in the 76th Magic City Classic. However, that wasn't even close to being the biggest surprise at this year's game at Legion Field. That distinction belonged to Aaron Sims, who devised an elaborate wedding proposal that included Jermaine "Funnymaine" Johnson supposedly handing out prizes to fans in the stands. The Magic City Classic once again had the great tailgating and featured Rickey Smiley as its celebrity ambassador, but it was Sims and his now-fiancée Tatiana Ethridge who upstaged them all.
Bride-to-be says 'yes' in front of 60,000 Magic City Classic fans from Alabama NewsCenter on Vimeo.
The Birmingham Bulls are back! The hockey team that ended its last run at the Birmingham-Jefferson Convention Complex in the 1990s returned this year to the Pelham Civic Complex. The venue may be different, but there is much about the Bulls that fans find familiar. Art Clarkson once again heads the organization and he hired former player Jamey Hicks to be the new coach. The name, logo, color scheme and other elements recall the old days of the team. Even Eli Gold, best known as the voice of the Crimson Tide football team, is back calling Birmingham Bulls hockey games.
Birmingham Bulls are back from Alabama NewsCenter on Vimeo.
Sports is all about overcoming adversity and confronting the challenge that lies in front of you. Most often, the public observes that contest on the playing field, but this year we learned about how Miles College's head football coach is confronting his biggest loss off the field. Reginald Ruffin and his teenage son lost the wife, mother and MVP of the family, Monica Ruffin, at the start of the year. Ruffin talked to Alabama NewsCenter about how hard it was to lose his wife and the struggles of being the head coach of a football program and a single father of a teenage son.
Miles College Head Football Coach Reginald Ruffin talks about coping with his greatest loss from Alabama NewsCenter on Vimeo.
It's been 46 years since the Alabama Crimson Tide shocked the college football world by unveiling the wishbone with running back Johnny Musso. But all you have to do is say his name and Tide fans recall immediately the player's place in Crimson Tide history on one of coach Paul "Bear" Bryant's best teams. Musso now hangs his hat in Chicago but he made a rare public appearance in Alabama at a fundraiser for Birmingham's Banks High School where he played his high school football. Alabama NewsCenter caught up with him there to relive some of the glory days.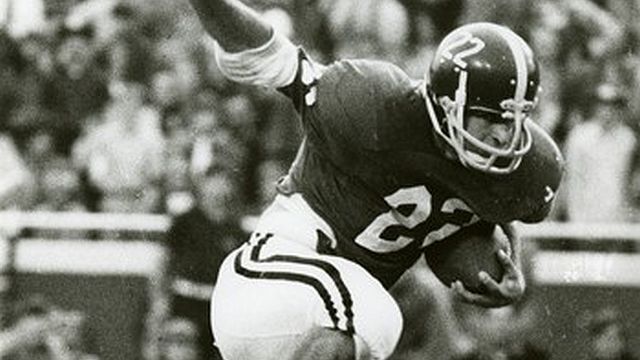 Deontay Wilder began the year with what he said was his "come-out, comeback" after a seven-month layoff from boxing. He spent the time recovering from a broken hand and a bicep tear that he suffered during his fight against Chris Arreola in July 2016. After announcing in January he would fight Poland's Andrzej Wawrzyk in Birmingham, Wawrzyk tested positive for a banned drug and was replaced by a presumed better challenger Gerald Washington. Wilder went on to defeat Washington. It would be the first of two successful defenses of his World Boxing Council heavyweight title this year. He took down Bermane Stiverne (who was a replacement for Luis "King Kong" Ortiz, who also failed a banned drug test) in November. It was a year in which Wilder was immortalized in bronze, won a lucrative legal battle and was part of the inaugural class of the Alabama Boxing Hall of Fame.
Tuscaloosa's Deontay Wilder talks being a short-term or a long-term boxing champion from Alabama NewsCenter on Vimeo.
Editor's choice:
The revival of UAB football was one of the feel-good stories in all of sports. The excitement started to build with the spring game in April and by August season ticket sales had already surpassed expectations. The opening game at Legion Field was filled with fanfare and capped off when Tim Alexander stood up from his wheelchair and, with some assistance, delivered the game ball. Throughout a successful season, the Blazers showed their connection to the community with special touches like wearing the names of Children's Harbor patients on their jerseys. The return season ended with an 8-5 record and a loss in the Bahamas Bowl against Ohio, but making the bowl game and the added practices and rewards that came with it capped off a winning comeback for UAB football.
Paraplegic Timothy Alexander stands and walks to deliver the game ball for UAB football's return from Alabama NewsCenter on Vimeo.
UAB Blazers football team prepares for the Bahama's Bowl from Alabama NewsCenter on Vimeo.
SEC Media Days this year featured a number of head coaches who won't be back when the next SEC Media Days is held in Atlanta in 2018. Alabama NewsCenter was there this year bringing you coverage of the high expectations, the new faces on the sidelines and in the broadcast booth. Of course, there was a heavy focus on the Alabama Crimson Tide and the Auburn Tigers, including an interview with an optimistic Gus Malzahn. We also heard from Tide players, Tiger players and Nick Saban along with coaches from the other schools in the league. We introduced you to the new players at Alabama and Auburn who could make an impact and explored Saban's growing coaching tree in the conference. We even took a look at the changes to instant replay the SEC would employ this year. With hindsight, we can see the fulfillment and the folly of some of the expectations, but it got us all excited for the football season at the time.
Nick Saban on running backs, quarterbacks, motivation after a loss and more at SEC Media Days from Alabama NewsCenter on Vimeo.
Auburn head coach Gus Malzahn previews the 2017 football season from Alabama NewsCenter on Vimeo.