EYES ON SUNDAY: Our global model friends have been agreeing with each other more and more about the potential for wintry precipitation across Alabama, which is good news. They have come into consensus that the system coming in Sunday will be weakening and its moisture will stay pretty far to the south. There could be some issues Sunday morning across west central Alabama if the precipitation commences when temperatures are still close to freezing.
Here is the model of choice for this forecast package at noon Sunday: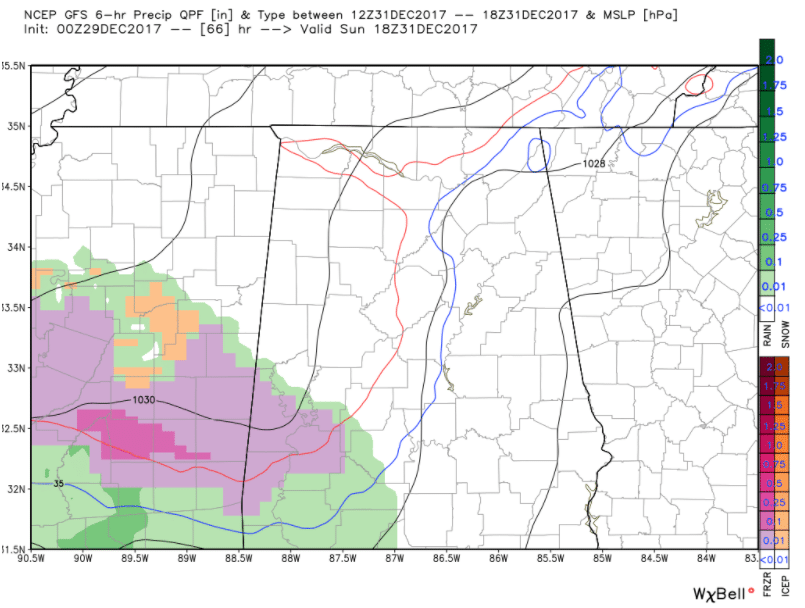 Pink is freezing rain, orange is sleet and green is rain.
And we must point out that NAM, the National Weather Service's main mesoscale model, does produce a few hours of light snow across central Alabama Sunday morning. If this scenario does pan out, there could be a dusting of snow between the I-20 Corridor and U.S. 278 by late morning. But we are treating it as an outlier for now and believe that there won't be travel problems across central Alabama on Sunday.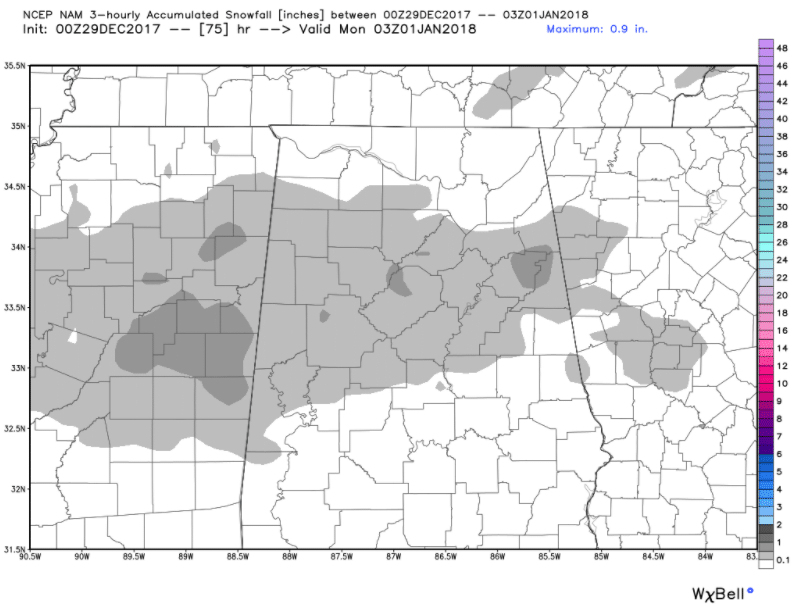 Having said that, we still have a couple of days to monitor this situation and will be carefully scrutinizing all the latest data right up until Sunday. Make sure you are armed with the latest forecast information and data as you make your New Year's Eve plans — just in case.
AND SOME FANS HAVE SOME TRAVELIN' TO DO! Bama fans will have to check the latest forecast if they are leaving Sunday morning in case there are any brief problems along I-59 in west central Alabama and southeast Mississippi. Leaving Saturday means no problems, of course. New Orleans will enjoy highs in the 50s through Sunday before the bottom falls out. Highs on New Year's Day and Jan. 2 will be in the 40s. Lows will be in the 50s Saturday and Sunday mornings. Monday will start off in the middle 30s and Tuesday will dawn with temperatures in the lower 30s.
It should be mostly dry for Auburn fans heading to the Peach Bowl Saturday, Sunday or early Monday. The only risk is for a shower late Sunday night that could be mixed with a little sleet. Highs through Sunday will be in the 40s. Lows will be in the 30s Saturday morning and 20s Sunday and Monday. Tuesday morning lows will be in the teens.
ONE THING IS CERTAIN…THE COLD IS COMING: The gates to the Arctic have been open since Christmas weekend, and extreme cold has been impacting the Upper Midwest, Great Lakes and Northeast. The western trough will build and the eastern trough will buckle by the weekend. As the jet stream is shoved northward over the Arctic, it will bring a Polar Express of cold air southward, leading to an extended period of deep cold for Alabama and the Southeast. Highs will be in the 30s Sunday through Friday and lows will be in the teens. There will be a couple of mornings with lows in the single digits.
PREPARE NOW: Remember the four P's – People, Pets, Plants and Pipes. Go ahead and get ready now. Check on the elderly and other vulnerable people. Bring pets indoors and make sure the area that they stay in is pet-proofed against harmful items they might get into. Make sure large animals, like horses, have shelter and plenty of food and water. Protect exposed pipes and keep water moving through them by keeping faucets trickling.
Let's go day by day.
TODAY: The nicest of the bunch. Sunshine should remain in full force and high temperatures will edge toward 50 degrees.
SATURDAY: Pretty much a carbon copy of today, except northerly winds freshen a bit and it will be a tad cooler.
SUNDAY: Clouds start pushing in from the southwest during the predawn hours and overspread the area during the morning. Light rain and sleet overspread south Alabama during the morning. There could be a brief period of freezing rain or light snow over west central Alabama, around Sumter, Greene and Hale counties. Temperatures will peak in the upper 30s before slowly falling back through the afternoon. It will become breezy, too, with a fresh northwesterly wind, occasionally gusting over 20 mph. The mercury will free fall as skies clear late Sunday. The only thing slowing it down will be the winds, which may stay up Sunday evening, keeping it from getting as cold as it might have. Lows by Monday morning will be in the middle and upper teens across north Alabama, 18 to 20 in the I-20 Corridor, and lower and middle 20s across south central Alabama.
MONDAY: A raw day. Despite sunshine across the board, temperatures will struggle to reach the freezing mark against a biting north wind that will average 8-14 mph, occasionally gusting to more than 20 mph. Wind chill values Monday will be in the 3- to 12-degree range across northern and central Alabama.
TUESDAY: Tuesday morning lows will be a couple of degrees colder, between 13 and 20 degrees across the area. Wind chill values will again be in the dangerous category, running in the single digits to near 12 degrees. Tuesday afternoon highs will be in the lower and middle 30s with partly cloudy skies.
WEDNESDAY: Still very, very cold. We start off in the upper teens to lower 20s and rise only into the upper 30s. Another surge of cold air arrives Wednesday night. No precipitation issues are expected, as the system will be moisture-starved.
THURSDAY: Another raw, cold, windy day. Lows start off in the middle and upper teens, then rise into the lower and middle 30s. A few spots won't get above freezing. It will be even windier Thursday than Sunday and Monday, with northwesterly winds averaging 10-20 mph and gusting to more than 25 mph.
FRIDAY: Still cold. Partly cloudy skies. Morning lows around 20. Afternoon highs in the upper 30s.
WEEKEND WARMUP: It will feel positively balmy as we head toward the first weekend of 2018, with highs around 45 Saturday, 48 Sunday and 52 Monday. A real tropical heat wave. Dry through the weekend. Rain — yes, rain — returns on Tuesday, Jan. 9.
WEATHERBRAINS: Dr. Pam Heinselmann was the guest WeatherBrain on this week's episode, talking about the exciting Warn on Forecast process. Check out the show at WeatherBrains.com.
For more weather news and information from Bill Murray, James Spann and other members of the James Spann team, visit AlabamaWx.