Artimaps, Huntsville
The Maker: David Nuttall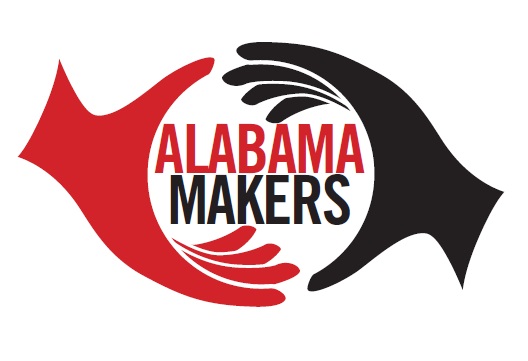 If you get lost, do not use a map from David Nuttall.
You'll end up in a fictitious place. You may even find yourself on a different planet. You see, Nuttall's maps are not real, but somehow are … real.
"These are not real places, but I like to think they could be," Nuttall said. "They are out of my imagination but are heavily researched and based on our world, so they're not fantasy based on novels or science fiction. I do maps based on the real world."
Nuttall sells his hand-drawn, plausible, fictitious maps, or Artimaps, at his studio in the Lowe Mill ARTS & Entertainment district in Huntsville. Born in South Wales, Britain, he moved to Huntsville in 1996. Nuttall and his wife, Jodi, also an artist, share the studio in the hip and artsy building.
Artimaps is based in Alabama but plots on the imagination from Alabama NewsCenter on Vimeo.
Most of Nuttall's maps convey a scene during the day, but he has done a few to depict the night.
"The black one is one of my nighttime series. I view that one from a 20,000-foot view, at night, of a place that doesn't exist. That one is set in the United Arab Emirates, so I studied Abu Dhabi, Dubai, Qatar and other places to see what light patterns they have, color patterns, the density, and layout of the roads," he said.
Nuttall studies the history and culture of a place to see why places look the way they do, and then sets aside all of that research and makes up a place that belongs to that part of the world. His maps are different from any other similar form of the art.
"There are other artists that do hand-drawn maps, but most of them are of real places. Some are doing fictional maps, but they're doing fantasy maps based on 'Game of Thrones' or other popular stories," Nuttall said. "I haven't found anyone else drawing fictitiously, by hand, to the level of detail and on the number of surfaces I use."
Nuttall sees maps in everything. There is a term for that condition: Cartocacoethes. Laughing, Nuttall admitted having the compulsion.
"I do see maps in things, but more importantly, I see the potential for maps. For example, I look at this floor and I see highways and railways and different terrain. The grain of the wood looks like a topographical map. I'm seeing contours and elevation in almost everything," Nuttall said. "We call it a condition because you can't turn it off. When I look at the door behind you, I don't see a door, I see a mountain. That is just the way I look at the world."
Nuttall has done maps on wood, canvas, clothing, paper, board and even on skin. He has been commissioned to draw maps that included family names, pets, friends, places visited, jobs and significant events.
With the popularity of Nuttall's work, he still finds it shocking he makes a living doing what he loves.
"I've been sharing this for 10 years and am still surprised when someone likes my work. I'm surprised when someone wants to give me money for my imagination. When someone comes in and gets lost in the world I've created, lost in something that is pure imagination, that's thrilling to me. I've made a connection with somebody. Some have come in and asked me if I've had scans of my brain to see what's going on in there," Nuttall said, laughing.
Nuttall has given a TED Talk at TEDx Huntsville about his art, and several magazines have written about him. Perhaps his biggest honor was the selection of his map 'The Fictional City of Alefano and Surroundings" for the Royal Academy of Arts' Summer Exhibition in 2016. About 200,000 people saw the exhibition in London.
They did not use his map to get there.
---
The Product: Hand-drawn, fictitious, plausible maps
Take Home: Maps on board/paper: $50-$100
Lowe Mill ARTS & Entertainment, 2211 Seminole Drive, Studio 308, Huntsville, AL 35805
256-682-3919; www.artimaps.com
Instagram: @Artimaps
Facebook: Artimaps
Twitter: Artimaps_DavidN