Every February, the coolers at Capitol's Rosemont Gardens in Montgomery are packed full of beautiful, fresh blooms, including nearly 3,000 red roses.
"Valentine's Day is definitely a rose holiday," Manager Jerry Thrash said. "We always run out of red roses."
While Valentine's Day is the third-largest annual holiday for Rosemont Gardens, behind Mother's Day and Christmas, respectively, it is arguably the busiest one-day event of the year for the florist.
"It's a big holiday for us because it's crammed into one day," Thrash said. "Other holidays, even Mother's Day, stretch over a weekend or week, but Valentine's Day is specifically one day. It's very strenuous, but it's also a very big moneymaker for us."
Thrash said the shop is especially busy on years when Valentine's Day falls in the middle of the work week, as it does this year.
"Women love getting flowers at work, and men love sending their wives or girlfriends flowers at work," he said. "We have a lot of walk-in customers on these holidays that we don't normally have. It's always fun to see the guys picking out flowers for the first time."
Spending predictions
The flower power is expected to be strong throughout the country this year. Retail experts predict Americans will spend a near-record $19.6 billion, with individual consumers spending an average of $143.56 on Valentine's Day. According to the National Retail Federation (NRF), this year's numbers are the second-highest in the survey's 15-year history, topped only by the record $146.84 and $19.7 billion seen in 2016. NRF expects 55 percent of the population to celebrate this year.
Of those celebrating Valentine's Day, 36 percent will purchase flowers, 19 percent plan to buy jewelry and 35 percent will splurge on an evening out. The rest will pick up gifts of clothing, gift cards, gift certificates, greeting cards or candy.
At Rosemont Gardens, Thrash said the heartfelt holiday has always been one of his favorites, as he gets to help customers show loved ones how much they care.
More than florals, but flowers key
Specializing in flowers and home décor, Capitol's Rosemont Gardens also carries handbags, jewelry and a wide range of gift items. But the flowers are what it's best known for, Thrash said.
"When you get your flowers from Rosemont, you know they're from Rosemont. That quality is what we're known for."
Rosemont Gardens creates and delivers arrangements for birthdays, anniversaries and other special occasions. Many businesses and individuals in and around Montgomery hire Thrash and others at the shop to decorate their homes and offices.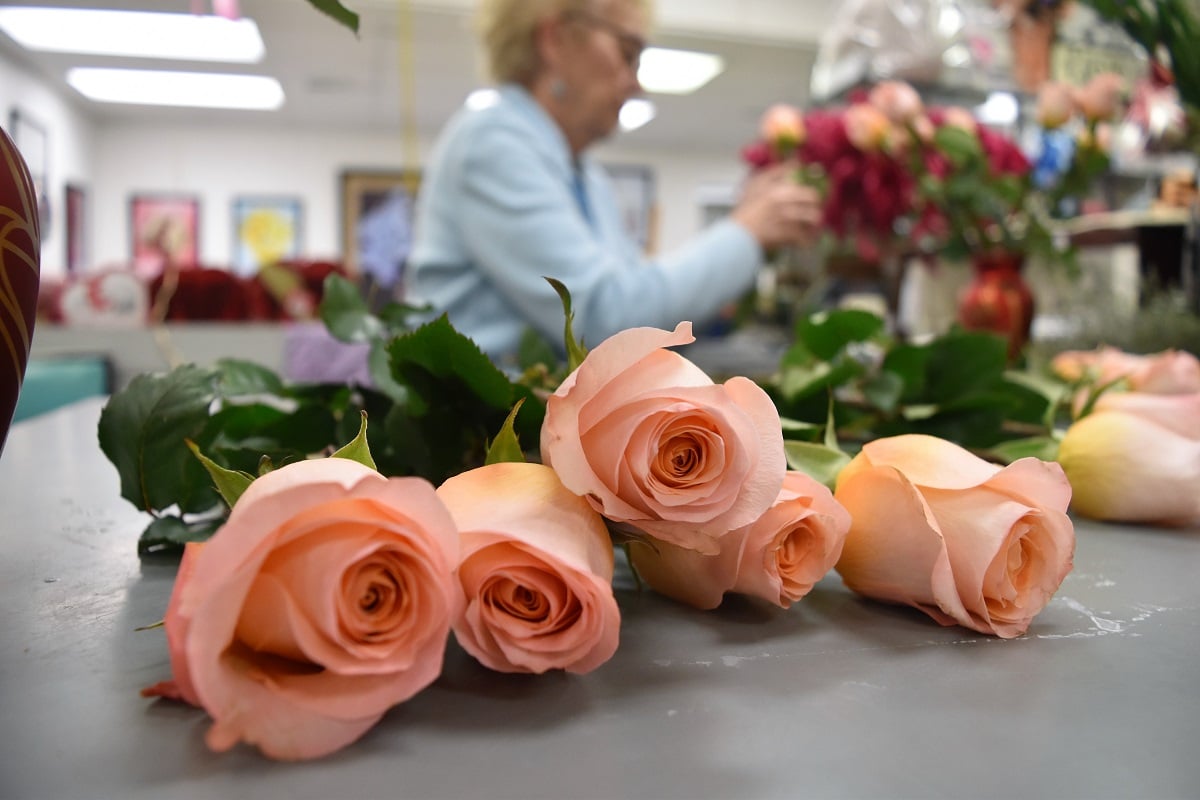 History
The florist and shop have been part of the Montgomery community since 1892, making it one of the area's oldest continually operating retailers. In November 2017, the business marked its 125th anniversary with a weekend celebration.
Thrash, whose mother and grandmother were employees of the store, said he enjoys sharing Rosemont Gardens' history with members of the community, especially during the shop's recent milestone. Being the third generation in his family to work at Rosemont, he is regularly invited to speak on the subject to local garden clubs and other groups.
"William Burns Patterson and his wife, Maggie, were immigrants from Tullibody, Scotland," Thrash said of the founders of Rosemont Gardens. "They had a yearning to teach the uneducated. They came south, and after living in Mississippi and west Alabama for a short time, they landed in Montgomery. You should also know the family was instrumental in founding Alabama State University. Tullibody Hall, on campus, is named for their hometown."
Rosemont Gardens has changed locations several times during its 125-year history. Thrash said it was once near 100-year-old Chris' Hot Dogs on Dexter Avenue, just down from the Alabama Capitol.
"The other location people remember was on Perry Street, which had big windows they used to decorate," he said. "Since 1966, we have been at the current location on Rosemont Place in Montgomery."
On the heels of a huge anniversary year, Thrash believes the store's legacy will carry it forward for many years to come.
"The Rosemont experience is something that anybody from Montgomery can tell you about," he said. "From the conception in 1892 until today, it has such a rich history. When you pair that with the camaraderie of all the people who work here and have worked here, it's just a great place."
Capitol's Rosemont Gardens at 2210 Rosemont Place in Montgomery is open from 8 a.m. to 5 p.m., Monday through Saturday. The store is online at capitolsrosemont.com.
This story originally appeared in Alabama Retailer magazine and on the Alabama Retail Association's website.