Rickey Powell remembers Friday, Sept. 13, 1963, like it was yesterday.
On that day, like most others, Powell and his best friend, Cynthia Wesley, took the bus from Center Street to 12th Street South and then down Sixth Avenue, eventually arriving at Ullman High School.
"Cynthia and I went to school that morning," Powell recalls. "I never in my life would have imagined that when she got off the bus and we departed company that I would never see her again."
That Sunday, along with three other young black girls, Cynthia was killed in the bombing of the Sixteenth Street Baptist Church.
"That was my first close encounter with the death of a child around my age," Powell says.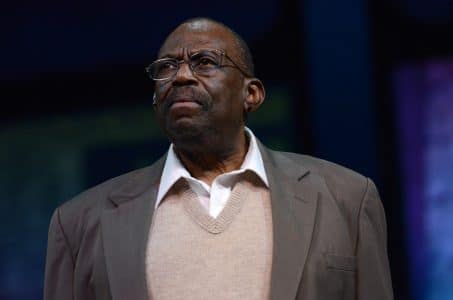 Powell tells those stories and others both on stage and off as one of the actors in Sue Greenberg's "Rosa Parks and the Montgomery Bus Boycott," a look at the events that led to Parks being known as "The Mother of the Civil Rights Movement."
Powell, though only a child, was in the thick of the movement, active in the Children's Crusade of 1963.
"I participated in the march," he says of the May, 2, 1963, march called the March on D-Day. "I was one of the foot soldiers. I was a children's marcher."
At age 10 in 1958, Powell first met the Rev. Martin Luther King Jr. at Sixteenth Street Baptist Church, but he knew very little of the history of the Montgomery Improvement Association and the bus boycott before delving into research for the BCT play. Formed in 1955 by King and other black leaders, the MIA was instrumental in the bus boycott that led to Parks' protest.
"I never knew the severity of it all," he says. "Going into some of the research, I got the opportunity to learn this, and I was just awestruck."
As he grew older, Powell became more and more involved in the civil rights movement. Friends with Wesley since they were students at Wilkerson Elementary School, the two and Carole Robertson, another victim of the church bombing, were in eighth-grade homeroom together, taught by Carole's mother, Alpha. Carole would go to Parker High School when Cynthia and Rickey went to Ullman.
After going to Talladega College, Powell moved to New York with Annie Joe Edwards, another friend from elementary and high school. Powell toured with a production of "Hair," appeared on Broadway in "The Wiz," toured with singers Gloria Gaynor and Herbie Mann (as well as the Village People), and appeared in several other professional shows before returning to Birmingham in 1999 to be closer to his two children.
Since then, the performer has sung in the Sixth Avenue Baptist Church choir, taught theater for the A.G. Gaston Boys & Girls Club  and appeared in several theater productions over the years, most recently at Birmingham Children's Theatre.
Performing in "Rosa Parks and the Montgomery Bus Boycott," he is able to share his civil rights stories with fellow cast members, and he also delivers a pre-curtain speech to the audience.
"I share my experiences, stories about knowing Cynthia and Carole," he says.
Powell also talks about meeting Rosa Parks, "many years after" her actions in Montgomery.
"We talked for a little while," he says. "She was a fine person. Alexandria Bates is playing her to the hilt in our play. I'm getting the chance to revisit Rosa. She's just incredible."
Others in the cast include Malik D. Harris, Brittney Williams, Toy Matthews, Jessica Clark Boody and Matt Gabbard.
Powell turns 70 this year and says he's not done, yet.
"I'm still good at what I do, and I pray that I can be for a while longer,"  he says.
"Rosa Parks and the Montgomery Bus Boycott" has public performances Saturday and Sunday, Feb. 10-11, at 2:30 p.m. Tickets start at $10. Go to bct123.org for more information.