Mardi Gras season is here and that means King Cake! I have several variations on the blog, this quick and easy version, and a more traditional one here. Want to know what all this King Cake stuff is all about? Check out this post Laura did for us a few years back. It's filled with great info and history of the sweet confection.
Now, on to this one…My other pull-apart breads have been so popular, I just wanted to offer one more take on the King Cake with that in mind. This simple recipe is actually an amazing breakfast as well as dessert. And while most modern King Cakes have fillings (cream cheese is my favorite) I just did a cream cheese icing to keep it easy but still have that great flavor.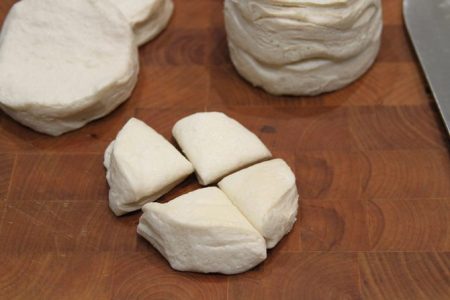 Start with 2 cans of refrigerated, flaky layers biscuit dough. You can see I used Grands!
Separate them and cut each biscuit into quarters.
Next, combine the sugar and cinnamon in a gallon-size zip-top bag and give it a good shake to get everything mixed together. Now, add your biscuit quarters and seal the bag. Shake it well to coat the pieces in the cinnamon sugar.
Place the pieces of dough into a prepared Bundt pan and discard any extra sugar in the bag.
Bake in a 325 degrees oven for 45 to 55 minutes or until golden brown and the biscuits are cooked through. Using a butter knife to carefully peek down into the center of the ring will help check doneness. Allow the bread to cool in the pan for about 10 minutes while you make the icing. To do that, simply melt the cream cheese in the microwave and then combine the powdered sugar and heavy cream. Yes, you can use milk or even water here, but the heavy cream really does make a difference. But don't buy a whole thing of heavy cream for a tablespoon. Once the cake has cooled a bit, invert it on a serving platter and drizzle the icing on top. Decorate the top by using yellow, purple, and green sanding sugar like below. You can even add a baby in there if you'd like – just tell folks to watch out. We don't want anyone chomping down on Baby Jesus and breaking a tooth!
King Cake pull-apart bread
Prep time: 15 minutes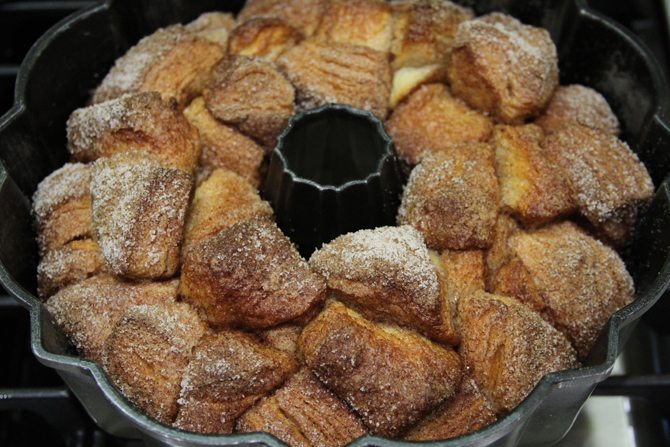 Cook time: 20 minutes
Total time: 35 minutes
Ingredients
2 (16.3-ounce) can flaky layers refrigerated biscuits
1 cup sugar
2 teaspoons ground cinnamon
2 ounces cream cheese
½ cup powdered sugar
1 tablespoon heavy cream or milk (but heavy cream sure does taste better)
purple, green, and yellow decorating sugar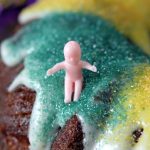 Preheat the oven to 325 degrees and spray a Bundt pan with nonstick cooking spray.
Open the biscuits and separate them. Cut each biscuit into quarters.
Combine the sugar and cinnamon in a gallon size zip-top bag and add the biscuits. Seal the bag and toss to coat the biscuit pieces. Place the coated biscuit pieces in the prepared pan evenly, discarding any leftover sugar in the bag. Bake for 45 to 55 minutes, or until the biscuits are cooked through. Cool in the pan for 10 minutes then invert over a serving dish and allow to cool some.
To make the icing, place the cream cheese in a microwave safe dish and microwave it for 15 to 20 seconds or until nearly melted. Combine the powdered sugar and heavy cream (or milk if you don't have heavy cream) with the melted cream cheese. Add a sprinkle of powdered sugar if it's too thin or a drop or two of milk if it's too thick. Drizzle the icing over the partially cooled bread and then decorate with the colored sugar. Serve warm.
This recipe originally appeared on SouthernBite.com. For more great recipes, visit the website or check out The Southern Bite Cookbook.