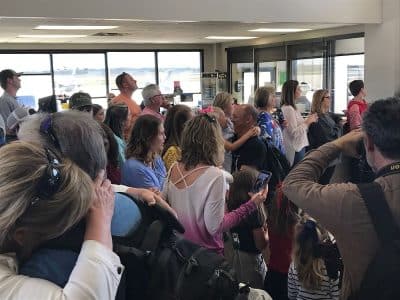 Alabama Power crews returned home after almost two months of work to restore electricity in Puerto Rico.
The island was ravaged last fall – homes and buildings demolished and power infrastructure destroyed – after Hurricane Maria touched down, knocking out power to the entire island.
Alabama Power crews were joined by other Southern Company linemen and support personnel including Georgia Power, Gulf Power and Mississippi Power crews in a major restoration effort that also included many other U.S. utilities and the federal government.
Thursday, crews returned home, flying into the Montgomery Regional Airport. They were greeted and interviewed by local media and welcomed by excited family members with cards expressing their affection.
"Alabama Power has a well-deserved reputation for getting the lights back on after storms of all kinds, but the situation in Puerto Rico has presented unprecedented challenges," said CEO Mark Crosswhite. "I am incredibly proud of the work our crews have done as part of the massive effort to restore power and a sense of normalcy to the people of Puerto Rico, who have suffered so much devastation."
Engineering Supervisor John Woody with Alabama Power shared their experience while in Puerto Rico.

John Woody from Alabama NewsCenter on Vimeo.
Residents of Puerto Rico were grateful for the assistance. One former police officer assisted crews while they restored power.
For example, Nelson Seda wore an Alabama Power hat in a show of support. He also wrote a thank you note to the crews helping get the lights back on.
He's a 61-year-old retired police officer who assisted with various jobs including helping local police with traffic control. He also worked as an interpreter. Alabama Power crews graciously accepted his help and say a brotherhood was created with him.
And while crews worked hard in the past few weeks, more work needs to be done in Puerto Rico. Next week, another round of Southern Company lineman including Alabama Power, Gulf Power and Mississippi Power personnel will go back over to the island to continue assisting.
Needed supplies are already on the way to the island and will await crews when they arrive.