Apple CEO Tim Cook professed "a deep love for this state" during a candid conversation in Birmingham that covered everything from computer coding to college football.
Cook was interviewed by Anthony Hood of the UAB Collat School of Business during the "Keeper of the Dream Symposium" at Birmingham's Sixth Avenue Baptist Church this morning. Cook is being honored by the Birmingham Southern Christian Leadership Council with its humanitarian award on this, the 50th anniversary of the assassination of the Rev. Martin Luther King Jr.
RELATED: Apple CEO Tim Cook and others are honored for continuing the dream of Dr. Martin Luther King Jr.
Cook spent the morning before the symposium at the Birmingham Civil Rights Institute and the Sixteenth Street Baptist Church reflecting on King's legacy and the progress since.
Apple CEO Tim Cook at Keeper of the Dream Symposium in Alabama from Alabama NewsCenter on Vimeo.
"When you think about the times that he had, the struggles that he had, the ultimate sacrifice that he made, I don't think any of us in this room are happy with where we are today but we can celebrate how far we've come," Cook said. "I don't believe we would be here without him."
The symposium conversation almost got off on the wrong foot when Hood delivered a "Roll Tide!" to Cook, an Auburn graduate.
"Everybody makes one really bad mistake in their life," a laughing Cook said. "But some are unforgiveable."
Cook knows the Alabama-Auburn rivalry better than probably any other head of a Fortune 500 company. Cook was born in Mobile, moved to Pensacola, Florida, for 10 years and then to Robertsdale. He earned his undergraduate degree in engineering at Auburn.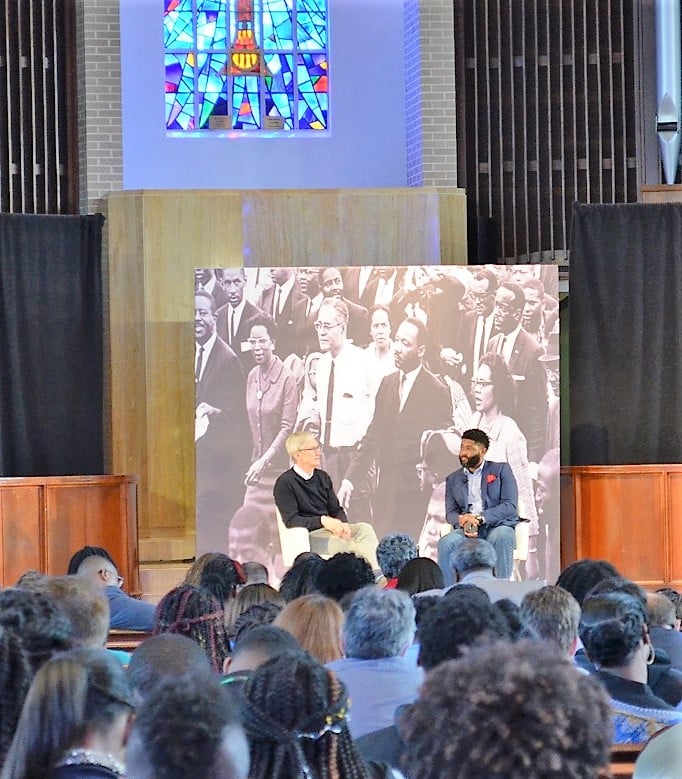 "Most of my formative years were spent in Alabama and I have a deep love for this state," he said.
But he confessed it was more than the engineering program that drew him to Auburn University.
He watched two nationally ranked football teams play in the 1971 Iron Bowl, only to have Auburn lose in a lopsided Tide victory.
"There was something about Auburn – I loved the underdog," he said. "I also felt – and there may be a lot of people who take exception to me in the audience, and that's OK, I just speak plainly – for me Auburn and Alabama, the thing that was distinctive about them was that the sort of the well-to-do people went to Alabama and it was sort of the place for the doctors and the lawyers. I always associated myself with the working people and the working people went to Auburn. So somewhere between that intersection of feeling like I belonged there and also just being wired to root for the underdog, it was that combination."
With an audience filled with high school juniors and seniors and college students, Cook's comments turned to more serious subjects than football.
Cook said young people are the best ones to bring about change.
"The reality is that young people are not stuck with old dogmas," he said. "They're not fighting these ancient fights. They don't accept, 'It's never been done before.' They don't accept, 'It can't be done.' They don't accept, 'It doesn't work like that.' This is a great beauty of being young. As too many people age, they begin to live in a smaller and smaller box in terms of their thinking."
Cook said it's as true today as it was during King's time five decades ago.
"The reality is where you look today or 50 years ago, a lot of the change happens because young people say, 'We must change. We have to change,'" he said.
Not that it's all on them.
"I don't want to take anyone my age off the hook, because we have a responsibility, too," Cook said.
Much of the conversation, not surprisingly, centered around technology and its increasing role in our lives. Cook challenged looking at technology as being anything but a neutral tool.
"Technology by itself doesn't want to be good or bad. It doesn't want to be anything," he said. "Technology is good or bad based on what the creator has done with it."
Cook expanded on his thoughts.
"Technology has to be infused with humanity to be good," he said. "It's the only way that it becomes good – if it's used in the right way. Used in the right way, you could see cancer being cured. You could see babies as they're being born having their genome sequenced and then having personalized medicine for their life."
Cook said during his meeting with Pope Francis, the discussion focused on not allowing technology to outstrip our humanity.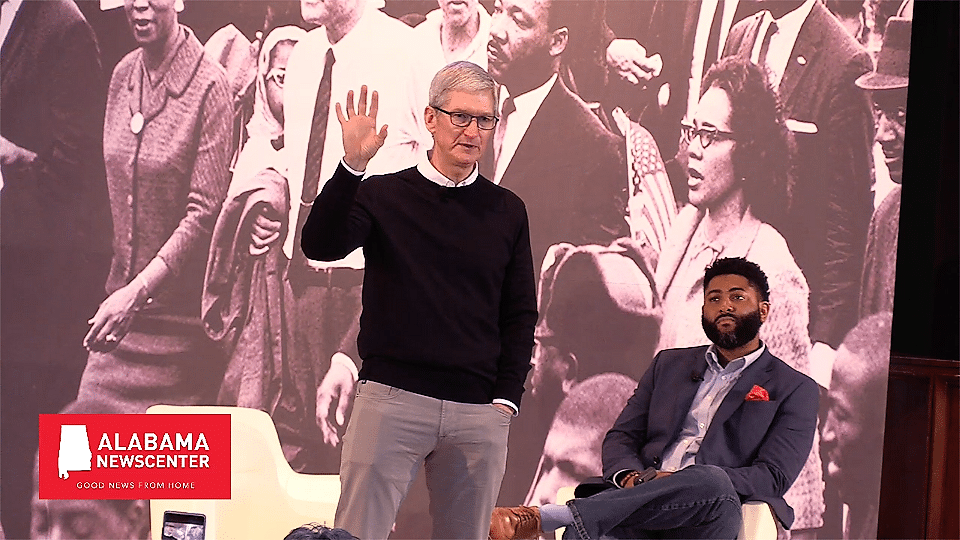 That's in keeping with the principles that Steve Jobs founded Apple with, Cook said.
"Apple's whole idea, Steve's idea, was to democratize technology and take things that only rich people and rich institutions could do and make them available for the rest of us," he said.
He theorized what King might have done with the technology of today, given the way he used television and traditional media to further the cause of civil rights.
"There is no doubt in my mind that he would have been a master of social media, as well," Cook said. "I think he would have figured out a way to do that."
Those who, like King, are looking to bring about change are using technology effectively today, he said.
"I think that technology can have this incredible speed associated with it to change things faster, to make some of these ancient issues fall faster," Cook said. "I'm optimistic that this can happen."
One need Apple is working to address is the need for more people trained in computer coding.
"I think coding is an essential language now," Cook said. "My own view is that everyone that is in school should have multiple years of coding before they graduate. That's not because I believe that everybody should be a computer scientist or would want to be. I don't. But software is touching all of us all day long. This is the reality."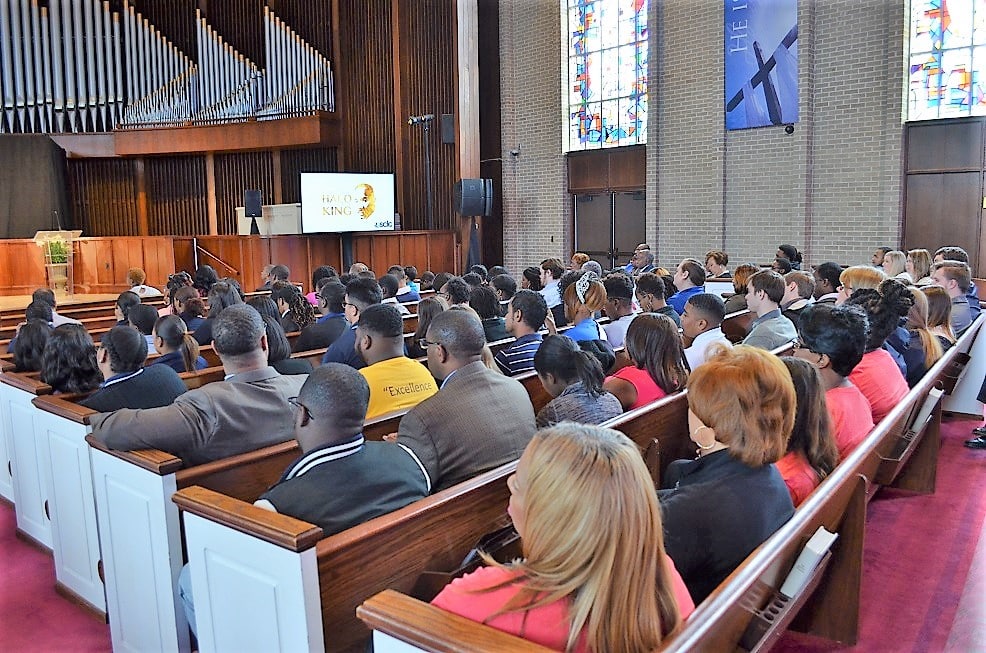 Whether it is the way we consume news to the way we control our homes, track our finances, receive our medical information or even in the cars we drive, software touches us all throughout the day, Cook said.
"I think that it's important that kids graduating understand the possibilities of software," he said. "For that reason, we did a lot of investigation and said, 'How can Apple help in this?' We first developed our own programming language and we did that because the other programming languages were more written for computer scientists. So people were looking at these languages saying, 'I'm not interested in learning this. It's no fun.' So we invented a language that's as easy to learn as our products are to use."
Apple has established a curriculum for K-12 schools and another one for junior colleges. Lawson State Community College in Birmingham and Bessemer is among the schools teaching the courses.
"This is something that I think is essential for the U.S. because we have this huge gap today between the job needs and the job skills," Cook said. "As a country, we haven't done a very good job of identifying these gaps and then working with education to supplant these. I think that there could be a lot more people employed right now if this had all started earlier. But I'm confident that over a period of time, this will be really great for the country and for the world."
Still, the need is large and growing.
"We know that coding is a huge job segment," Cook said. "We know that there are half a million jobs in the U.S. today that aren't being filled and we pretty much know that number is going to go to 2 million in the next three or four years."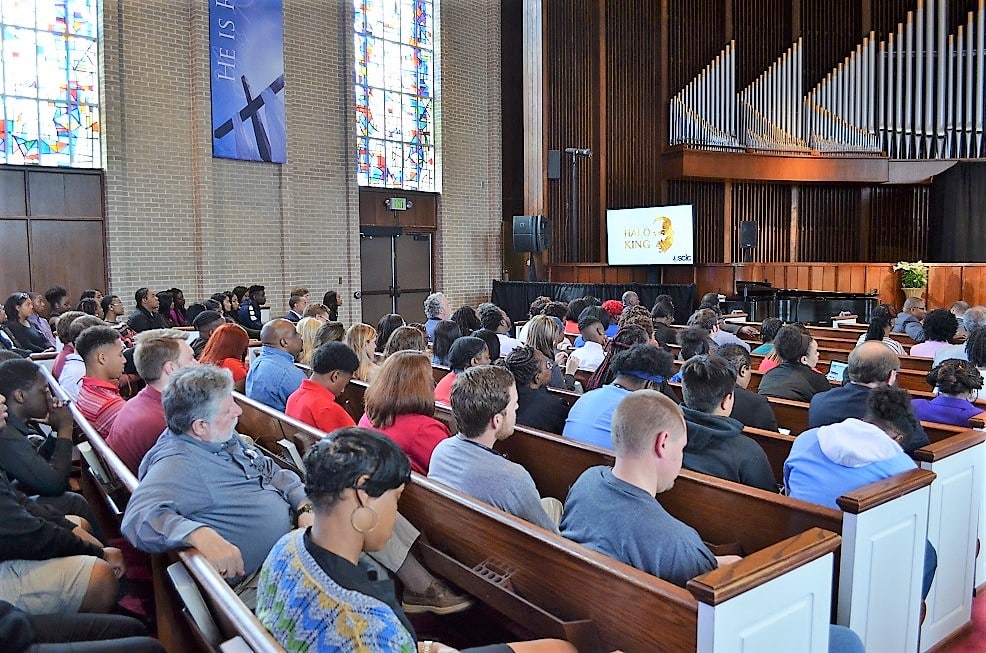 When asked if he's ever considered it daunting that a guy from Alabama is leading one of the world's largest companies, Cook said that's not how he views Apple.
"The truth is I don't really think of Apple as being one of the largest companies in the world. I think of Apple as a little small company that … is sort of fighting the establishment and rebelling against the establishment," he said.
"I think of it as just a big startup that doesn't have to worry about raising money."
Cook said his focus is always on the people and the work, not on the numbers.
"I don't freak myself out with the size of the numbers," he said. "If I did I would think, 'Why am I in this job?'
"The number are nothing more than the result," he added "We don't focus on revenues and profits. These are just the result of doing the right thing with products and treating customers special and trying to make things simple to use."
About those products, which ones does Cook prefer?
"If you ask me what my favorite Apple product was, that's sort of like asking you who your favorite child is. You really love all of them," he said. "I'm using an iPhone X, but I also use iPad, iPad Pro, I use an iMac, I use a MacBook Pro, I use a MacBook, depending on where I am between house and work and traveling and so forth. And, of course, I have an Apple Watch on."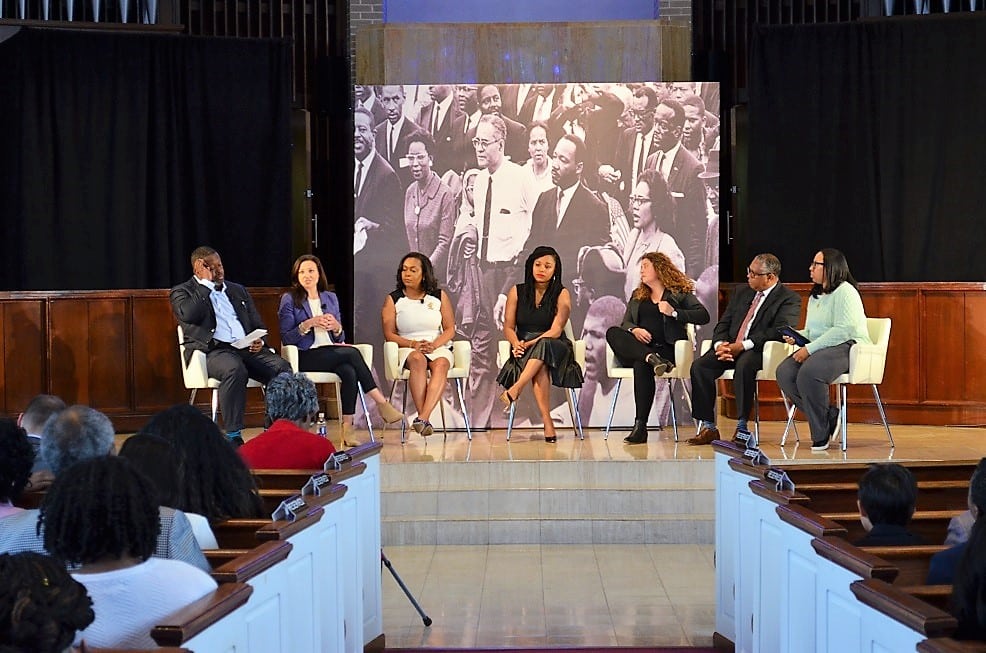 Hood returned the conversation to football, asking Cook whether Alabama or Auburn will have a better season in 2018.
"I was at the Iron Bowl last year. I don't know if you saw it or not," Cook responded, to a combination of groans and cheers as the audience recalled Auburn's win over Alabama.
"I think Auburn is," he said in answering the question. "I'm a big fan of Coach Malzahn and I think they have some incredible athletes and they play as a team. Both offensive and defensive coaches are top drawer. I'm looking for a big season."
In addition to the conversation with Cook, the symposium had a panel discussion on economic justice and innovation and how young people can become agents of change.
Jonathan Porter, vice president of the Birmingham Division for Alabama Power, called on the students to embrace the tools they have.
"Economic justice and innovation are the tools that will be used to transform Birmingham into a city that is not just willing and ready to step up, but to take on all that the future holds for this great city," Porter said. "But every tool needs someone to understand it and to use it, which is why you all are here today. You are the future of Birmingham and this great state of Alabama and each one of you sitting here has exactly what this city and this state needs. The question is, 'Will you use it?'"
You can watch the entire Tim Cook interview below.
Conversation with Tim Cook at Keeper of the Dream Symposium in Birmingham from Alabama NewsCenter on Vimeo.