April 15, 1839
Reuben Francis Kolb Sr. was born in Eufaula. Kolb is perhaps best known as the voice of populism in Alabama's bitterly contested gubernatorial elects of 1890, 1892 and 1894. Kolb commanded a Confederate artillery unit during the Civil War, then returned to Eufaula and farmed full time. He became widely recognized for his watermelon crops. Dedicated to agriculture, he was instrumental in creating a department of agriculture and industries in Alabama in 1883. During his three runs for governor he stood for the "little man" and supported political rights for blacks while opposing the convict-lease system. The 1892 and 1894 elections were marred by ballot tampering and voting fraud that led to Kolb's defeat.
Read more at Encyclopedia of Alabama.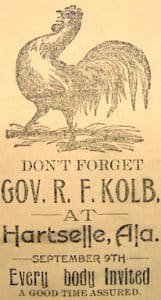 For more on Alabama's Bicentennial, visit Alabama 200.