Click here to view or print the entire monthly report compliments of the ACRE Corporate Cabinet.
Sales: Calhoun County residential sales totaled 133 units during March, down 13.6 percent from the same month last year. In March, 95 percent of residential sales in the area were existing single-family homes, while 5 percent were newly constructed homes. Two more resources to review: Quarterly Report and Annual Report.
For all of Calhoun County's real estate data, click here.
Forecast: March sales were 11 units or 7.6 percent below the Alabama Center for Real Estate's (ACRE) monthly forecast of 144 closed transactions in the area. ACRE projected 355 sales in the area year-to-date, while there were 334 actual sales through March.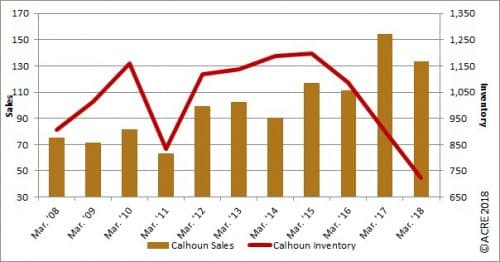 Supply: Calhoun County housing inventory totaled 722 units, a decrease of 20 percent from March 2017. Inventory decreased 6 percent from the prior month. Historical data indicate that March inventory on average (2013-2018) increases by .5 percent from the month of February.
Demand: March residential sales increased 43 percent from February. Historical data from Calhoun County indicate that March sales on average (2013-2017) increase from February by 37.2 percent. The average number of days on the market until a listing sold was 110 days, an improvement of 7 days from one year ago. The five-year average for the month is 132 days on the market.
Seeking balance: The inventory for sale divided by the current monthly sales volume equals the number of months of housing supply. Most real estate professionals consider the market to be in balance at approximately 6 months. Calhoun County had 5.4 months of housing supply in March, a decrease of 7.4 percent from the 5.9 months of supply during the same month last year.
Pricing: The Calhoun County median sales price in March was $129,900, an increase of 13.1 percent from March 2017's median sales price of $114,900. March's median price was 21.9 percent above the five-year monthly average of $106,560. Pricing can fluctuate from month to month as the sample size of data (closed transactions) is subject to seasonal buying patterns. ACRE recommends consulting with a local real estate professional to discuss prices, as they will vary from neighborhood to neighborhood.
Industry perspective: Interest rates are likely to increase throughout 2018. The Federal Reserve's Federal Open Market Committee (FOMC) met on March 21 and approved a quarter-point rate hike. As of April 5, the 10-Year Treasury stood at 2.83 percent, down slightly from 2.88 percent one month ago. Although daily yield curve rates have decreased slightly in the past month, many analysts are projecting that the 10-year Treasury will pass 3 percent in the months to come. According to Wells Fargo, the current interest rate on a 30-year fixed-rate mortgage is 4.58 percent (annual percentage rate).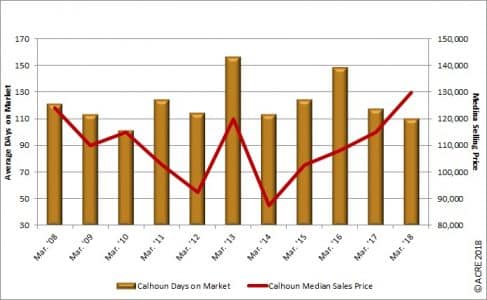 As the overall economy continues to expand, it is not surprising to see growth in Alabama's residential new construction market. February sales of newly constructed homes grew 22 percent month-over-month and 14 percent year-over-year. Statewide*, there were 507 new construction sales in February, up from 416 total sales in January and up from 445 total sales in February 2017. Year-to-date, new construction sales are up 6 percent from 2017.
February new construction sales in select Alabama markets
Baldwin County – 100
Birmingham Metro Area – 125
Huntsville Metro Area – 112
Lee County – 36
Mobile Metro Area – 17
Montgomery Metro Area – 35
Tuscaloosa County – 15
New construction building permits and housing starts data are indicators of larger economic conditions. Generally speaking, the housing market is one of the first sectors to expand or contract during times of growth or decline. According to the U.S. Census Bureau, 1,225 building permits for new construction were issued in Alabama during February. Building permits increased 1.1 percent from January, when 1,212 permits were issued, and increased 10.1 percent from February 2017, when 1,113 permits were issued. ACRE projected 1,219 housing starts in Alabama during February. Housing starts decreased 2.9 percent from January (1,256) and increased 13 percent from February 2017 (1,079). Year-over-year increases in both building permits and projected housing starts are encouraging news, as they hint toward continued overall economic growth during the second quarter of 2018.
*ACRE receives new construction sales data from the following counties/areas: Baldwin County, Birmingham Metro Area, Calhoun County, Huntsville Metro Area, Lee County, Mobile Metro Area, Montgomery Metro Area, Tuscaloosa County and the Wiregrass Region. Combined, these counties/areas represent +/- 70 percent of Alabama's total population.
Click here to generate more graphs from Calhoun County's March Housing Report, including Total Sales, Average Sales Price, Days on the Market, Total Inventory and Months of Supply. 
The Calhoun County Residential Monthly Report is developed in conjunction with the Calhoun County Area Board of Realtors to better serve Anniston-area consumers.