To get the job done, Jason Godwin literally has to "walk the line."
"Most of our lines are what we call rear lot, which means they are not on the road," said Godwin, Power Delivery lineman, Alabama Power's Patton Chapel Crew Headquarters. "That means if we have to repair a line, it takes a lot more time and is a lot more labor-intensive because we can't reach it with our truck."
Godwin said a job that usually takes about 30 to 45 minutes could require up to four hours because the equipment has to be hand-delivered in wheelbarrow-like buggies called mules.
"The biggest challenge is overcoming the terrain," Godwin said. "In some places, there's nothing but a sheer rock face. And in others, we have to walk through softball-sized or volleyball-sized rocks to get to the lines."
Lead Lineman Jason Wood also works on a Patton Chapel crew that maintains and repairs power lines in Hoover, Cahaba Heights, Homewood, Mountain Brook and other areas south of Birmingham. He said the congestion and constant traffic in those areas present their own challenges.
"Whether the challenge is overcoming the terrain, the traffic or the weather, there's always a sense of pride when we are finished, knowing that we have come up with a solution to do what we had to do to get the job done," said Wood, who has worked at Alabama Power for more than 18 years.
Thank you, Alabama Power linemen, on National Lineman Appreciation Day from Alabama NewsCenter on Vimeo.
Today Alabama Power, along with customers and other utilities, will say a special "thank you" to linemen like Wood and Godwin. The United States has designated April 18 as National Lineman Appreciation Day to recognize these men and women who tirelessly work day in and day out, rain or shine, maintaining and repairing the power system.
Alabama Power has more than 1,160 Distribution and Transmission employees who work on line crews. They all go the extra mile every day to keep the lights on for the company's more than 1.4 million customers.
The risks of working around energized power lines are real, but Godwin and Wood, like their linemen brethren, know the value of putting safety first. In fact, Godwin, who served as a radio operator in the Marines in Somalia in the early 1990s, was forced to face risk long before he joined Alabama Power six years ago.
"It's true that being a lineman is a dangerous job," said Wood. "When you're working on power lines, you are holding 7,000 or 19,000 volts in your hand, and everybody knows how quick it could go bad. That's why we all look out for each other and watch each other's back. Because of that, we have a special bond with each other."
Wood added it's not a 9-to-5 job. Linemen are often on call at night and on the weekends, or are dispatched to restore power when hurricanes, tornadoes or other storms hit neighboring states. Most recently, Wood and Godwin were called to help restring power lines and set poles in Jacksonville after a tornado devastated the area.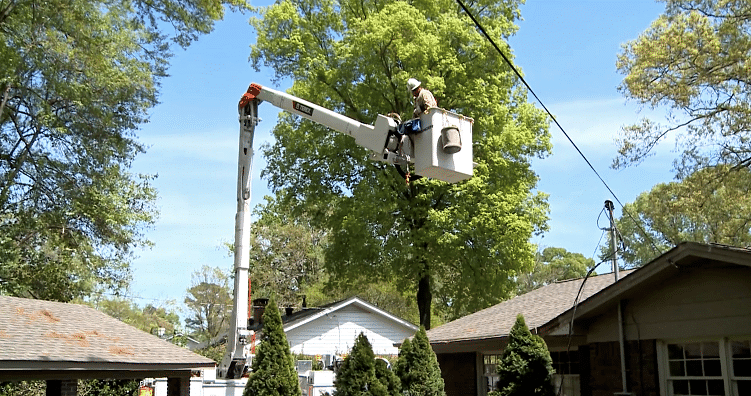 Wood and Godwin agree that despite the hard work and long hours, they love their job.
"I especially like seeing all the happy customers when we get their lights back on and having them tell you thanks," Godwin said.
"I love being outside and working with my hands, and this job allows me to do that," Wood added. "You're always working in a different spot and on a different job, and there's always a new challenge. And no matter whether you're working a storm or handling routine trouble, you're always helping somebody."
Scott Moore, senior vice president of Alabama Power Transmission and Distribution, commended company crews for their round-the-clock commitment and hard work.
"As I think about National Lineman Appreciation Day, I reflect back on one of the busiest weather years we've experienced in a very long time," said Moore. "Many significant hurricanes impacted our service territory and neighboring utilities around us. We experienced storm after storm that damaged our infrastructure here at home in Alabama. And yet throughout it all, the one constant to creating a true sense of normalcy in the lives of our customers is our linemen and all those that work so hard day in and day out to keep the lights on. This day reminds me of the commitment you all have to your craft. I hope you recognize how proud I am of your successes in making a difference for the customers you serve but also for the value you create by doing an incredibly important job that provides for your family and those that matter most to you. Thank you for all that you do and I hope you find time to celebrate the recognition you deserve during National Lineman Appreciation Day."